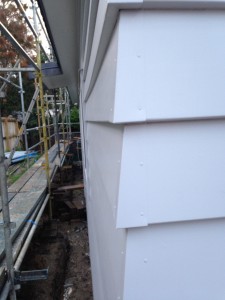 Well it partly depends on HOW you paint.
Stainless steel needs oxygen to repair its chromium oxide passive film which prevents corrosion. So not painting stainless steel is best. Not painting gives good exposure to oxygen to repair itself if any salt or contaminants get on it – so long as the stainless is maintained(washed every so often, if used externally) and of a suitable stainless grade and finish. So for fittings and fasteners on the exterior of houses near the coast this would mean stainless steel grade 316 and ideally polished (ouch to the eyes!).
Painting and sealing stainless steel is fine and OK but this would mean a paint 'system' which includes an etch primer and epoxy paint, to ensure salt and other corrosive agents don't get in. The risk you run with slapping some acrylic paint over the stainless is that:
a) If it is for exterior use, the contaminants can get through the paint, it doesn't get any rain water or washing and the stainless under the paint underneath could rust and leach through.
b) You get away with no rust or tea-staining but the stainless was not etched and the paint eventually can peel off.
Although virtually any type of paint will bond to a properly prepared stainless-steel surface, a two part epoxy paint is the preferred coating – here is a great guide on how to paint stainless steel.
As far as using stainless steel fasteners in timber construction goes, research shows that stainless steel corrodes less than other metals in wood and that stainless steel is the preferred metal to use in treated timber. So stainless steel is a great metal of choice.
NB: This information is provided as a guide only and Anzor does not accept liability for the application of this information. For advice about stainless steel please contact the Nickel Institute